Whatever. 2013 is here and it came in with snow, which we needed. And cold, which I hate to admit, we also needed. But that is set to change this week. So, since the lady goats in the big goat honeymoon suite haven't shown signs of heat in a month or so (so they are either bred or no longer cycling) I moved Buckthorn and his wether companion, Chickory, back out to the big buck pen. Please hang tight while I dash outside with my camera to get a picture.
OK, three hours later..... dad stopped by with some canned goods, yay! That turned into a lengthy visit. So, thanks for waiting so patiently. Chickory and Buckthorn, in the buck pen.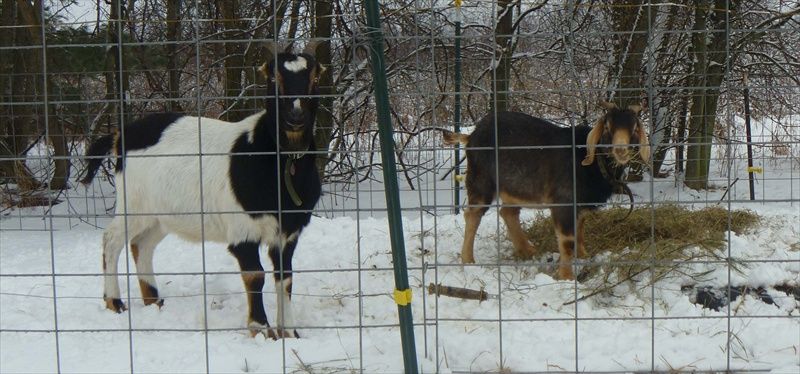 There they are!! It is looking pretty likely that a new wether will be joining the homestead. The original plan was that he would just go to freezer camp so I didn't mention him. But Stoli needs a companion at least until I see if I get any wether kids who would make a good companion for him, and... well, i went to meet him yesterday and i think he might make a decent team mate for Chickory. So I'd like to give him a chance to earn his keep and if it doesn't work out he will end up at freezer camp eventually. After being spoiled rotten for a while. More details to follow, as things transpire.
On unrelated news.... I got a picture of Tsu with his dogs on the couch. This is standard every evening, only there are usually a few cats in the mix as well.
Right now Misty is in her chair on her back with her legs all sprawled out and her tongue lolling, but as soon as I move to get the camera she will move. Hehe.
Well, I have to get to work on the membership database for the club, so enough dawdling and socializing. I have work to do.
Also, ducks.