I used to have a chicken coop. It was 6 foot wide and 12 foot long with a 12 by 12 chicken yard, no nest boxes because the previous owners of the place took them with but it had roosts and a little sliding door and a people sized door for the coop and the little yard. My pygmy goat lived in it, since i didn't have chickens. After Sarahgoatkin died my ex dragged the coop out back one night while he was having a party and torched it. *sigh*
Well, the new coop will be in the same place, once i and the goats get it cleared out. You can still see the remains of the chicken pen here, if you look REALLY close: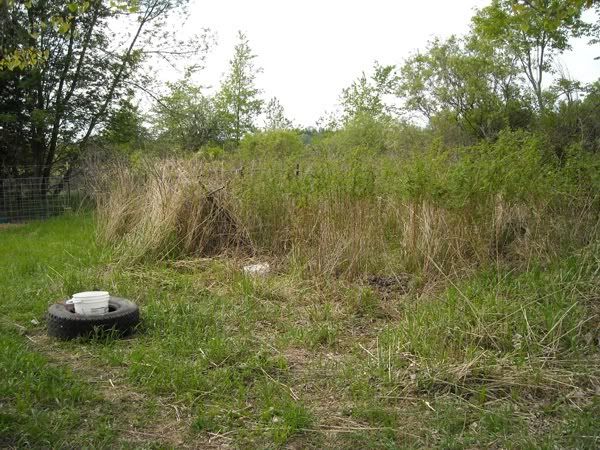 because i am cheap and i want to spend as little money as possible i am going to use as much stuff around here as possible. SO... Instead of spending several hundred dollars for a prebuilt coop or going all out and building something fancy i'm taking a page from my uncle's playbook and using junk (literally) that I have on hand. *snicker* The basis for my coop? this:
lol.
There is my roof, with built in windows, and ventilation I can open and close when i want to. Some walls built out of scrap wood or plywood seconds with a simple door and i have a servicable coop that clearly tells all who see it "the woman who lives here is a complete hick". I don't care if the plywood has a knothole or two, I can patch those, and it will save me money (did I mention i am cheap?? Oh, wait, i was told I should call myself FRUGAL).
For roosts... well... i was thinking of using this... it is the frame for a toddler bed that someone who used to live here left behind in the barn:
but they are metal and even though I intend to keep a heat lamp in the coop in the winter I don't think I want them on metal roosts. So while I was looking around i found THIS: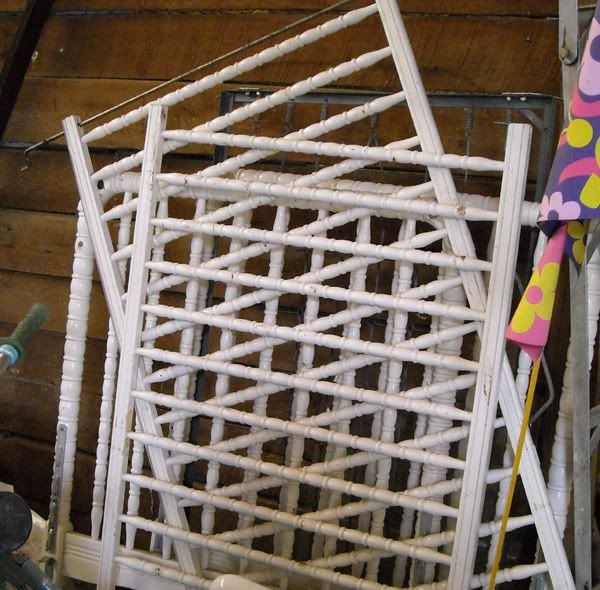 again, someone else's crap left to clutter up my barn, so free game for me to turn into one mighty fancy chicken roost!! I'll probably cut out every other bar and put it in the coop at an angle.
I'll probably paint the walls to match the pickup topper. If it turns out to meet my needs I may ask on freecycle for another old topper and use it as the basis for a more permanent goat hut, hahaha! Then the goat hut and the chicken coop would match. My back yard is going to be delightful. lol.
Speaking of the goat hut... before and after pictures...
before the goats: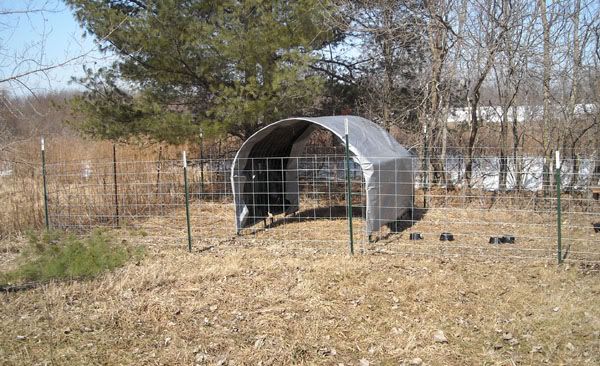 after the goats:
I can't look at that without laughing my butt off. Seriously.
Chances are the goats will spend the winter in the horse barn where the hay used to be, but by next year i will need something much more substantial for them in their pen. I can use the panels from the current hut to double the size of their pen and put the new hut far enough away from the fence to make sure they can dance on it all they want and not risk them jumping out!!
And just because i have been only sharing the bad about goats recently and not so much the good... some cute...
Happy boy!! I guess cute is in the eye of the beholder, eh? lol.
She may be a stinker but these ears just delight me.