4 small lots in National Forest Subdivision by Mack Lake, Mio Michigan. The lots are only 40 feet by 80 feet, but are all together in one piece so the actual property size is 160X80. They are lots 7, 8, 9 & 10 of block 6. They are walking distance to Mack Lake and close enough to make the owner eligible to join the Mack Lake Home Owners Association if they want to. The property is directly across the street from Huron National Forest. It is covered in Jack Pines and wild blue berries (they are delicious, lol). When I first bought it I cut a drive into it so we could look down the drive and watch the elk graze on state land.
There is electric up to the corner of the property so if someone wanted to build a small cabin on it they wouldn't have to run power very far. Total taxes on the property are under $70 a year (last years summer taxes were $60.45 and winter taxes where a whopping $8.45).
I purchased this property about a decade or so ago from a couple who had purchased it on a tax sale years before. I have not ever had the title work done to get the title clear (or quieted or what ever) but it is well past the point where the former owner can reclaim it. Because of this, ownership will be transferred by quit claim deed.
The red dots show where the property is located: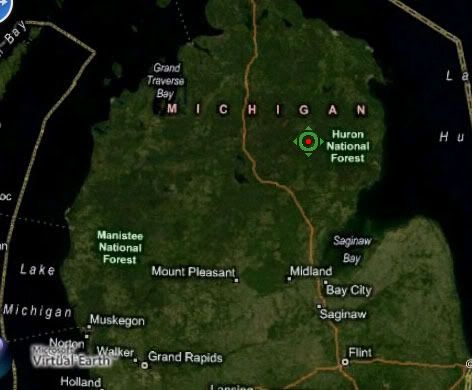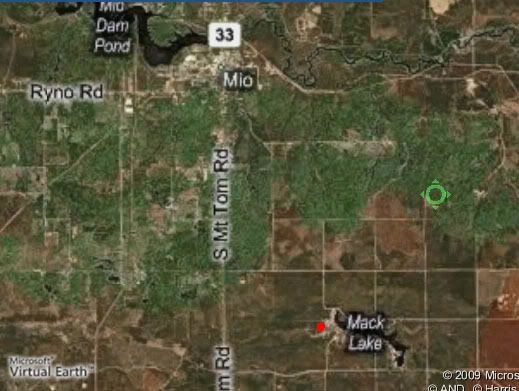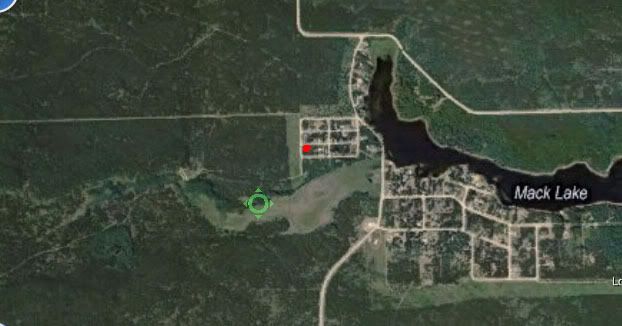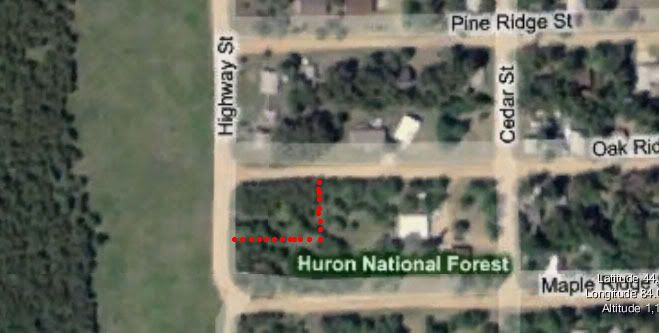 Huron National Forest is actually across the street to the west, not south like the picture from the map seems to suggest.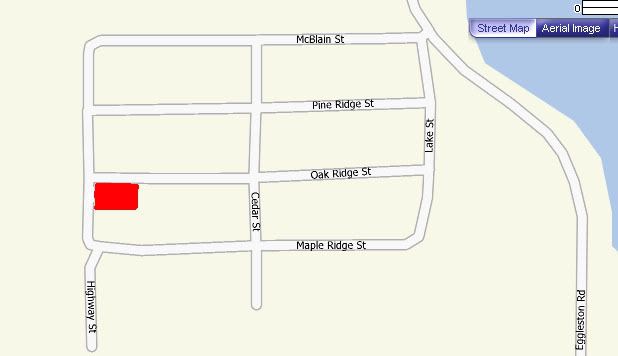 This area is close to the Kirtland's Warbler nesting area (
for info about the Kirtland's Warbler read here
). The area is full of off road trails for ATVs and horses within trailering distance but I don't think you could keep horses on the lot while you rode. So it might appeal to folks who ride ATVs, 4x4s and bikes or like to hike or who want their own place to stay but have friends they can keep their horses at if they go up to trail ride. The subdivision has a very nice friendly year around community as well as many fun part time residents. It is very busy around Labor Day weekend and Memorial Day weekend but is very quiet and laid back most of the rest of the year.
There is a LOT of wild life around to see, elk, deer, bears, small animals, and of course the birds. Several small towns in the area also have fun summer festivals.
Additional tax info (like taxable value and detailed legal description, etc) available for interested parties.
I will consider offers, and possibly trades or partial trades for good horse hay, a horse trailer or stock trailer, older camping trailer or pickup camper, a small car that runs well (doesn't need to be pretty but needs to run well), horse safe fencing, cattle panels or a nice chicken coop.