First, do not forget to check out my post about the Ask Pony weekly post. Send me questions, my friends, I need them!! They can even just be silly or funny if you want, I am fine with that. Hehe.
Link to post about "Ask Pony":
"Ask Pony!!!"
Now onto the good stuff. This month's give away:
This month I am giving away one of my hand crafted gourd art projects. This one is a tattoo art inspired "Catch All". I have one similar in my front room that I toss odds and ends into that I use often but don't want rolling around on the counter. Like my keys, wallet, thimble, seam ripper and a few packages of shoe laces. It might also work nicely to keep track of your jewelry that you wear often on the rare occasion that you take it off.
This is the actual gourd in question: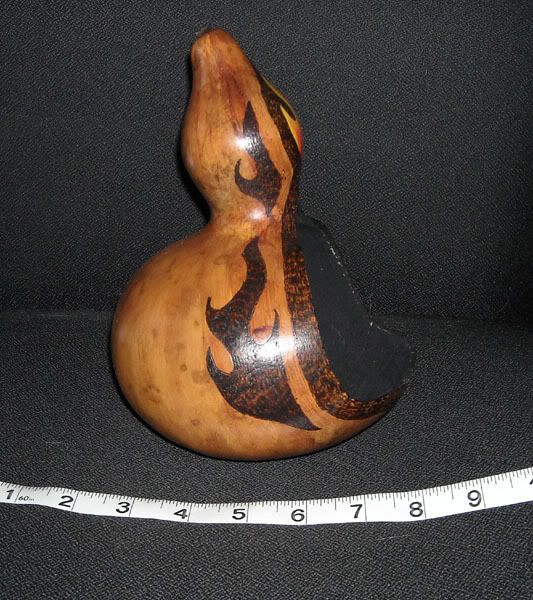 This was made from a medium sized bottle or birdhouse gourd using leather dye, a wood burner, Prisma Colour Coloured Pencils, acrylic paint and paste wax. This is made to sit on the counter, not hang on the wall.
IMPORTANT INFO!!!!
HOW TO ENTER: To enter you simply need to reply to this post! You can enter any time between now and the last day of the month. On the first day of next month I will post the name of the winner.
WHAT TO DO IF YOU WIN: You will need to email me your address to ponysmonthlygiveaway@hotmail.com. I will ask you a question in response to your email and you will answer it on this post with the same ID you entered the contest on to make sure I am mailing it out to the right person! Does that make sense? If not feel free to ask for clarification. It must be claimed within 30 days of the winner being announced or it will come up for give away again.
HOW I WILL CHOSE THE WINNER: This will change from month to month. This month I will count all of the entries, I will make cards with numbers on them from 1 to the last number of entries. I will then randomly draw one and then count the replies to that post and who ever made it will be the winner. You can enter as many times as you like, but try to say something worth reading in each one, so I can be entertained.
OK, that is it, good luck everyone!