I'm tired, and I have a bit of a headache, and I am thirsty for something carbonated but we have no soda in the house and at almost 9pm I am feeling way too lazy to go somewhere to get anything. I'm also having a very hard time typing coherently so please cut me a tad bit of slack on any typos. *grin*
This weekend was our gun club's annual Rendezvous. Some of you may remember last year, which was the first time I got to stay out there, and I loved it. This year I made a custom gourd to donate for a prize at the shoot, and best of all... Tiffany got to go with us!!! In the past Tiffany has missed out on... basically everything... because she spent every weekend and vacation and all but a hand full of days close to big holidays at her dad's. She decided she wanted to come with when she went to the gun show earlier this year, and i figured she could come friday night and if she was miserable she could house sit the critters the rest of the weekend. She ended up staying all weekend.
So first, the gourd I made to donate as a prize for the shoot. Our club is known as "The Clan Of The Wolverine":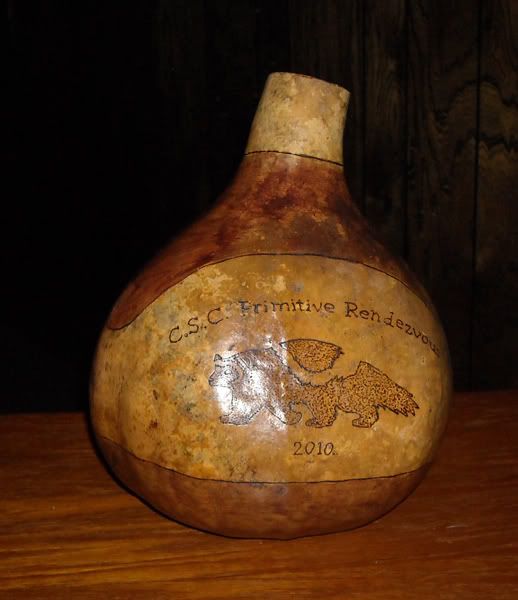 They call up each of the winners and top several shooters and they get to go to the prize table and select what they want. The guy who took my gourd is a member of our club, Gary. SUPER nice guy. He came over after and told me he had been wanting it since he saw it with the other prizes. That made me feel pretty awesome.
So, one great thing is that I made about $4 more than i spent. WHEEE! And I spent, well... quite a bit!
Tiff watched the dogs for us thursday night, and came out with us friday after we dropped the dogs off at grandma's house. I didn't get any pictures of her in the shirt I made for her, but I did get some of the hat she decorated and the short sleeved shirt we got her. It was HOT. HUMID. Did I mention HOT?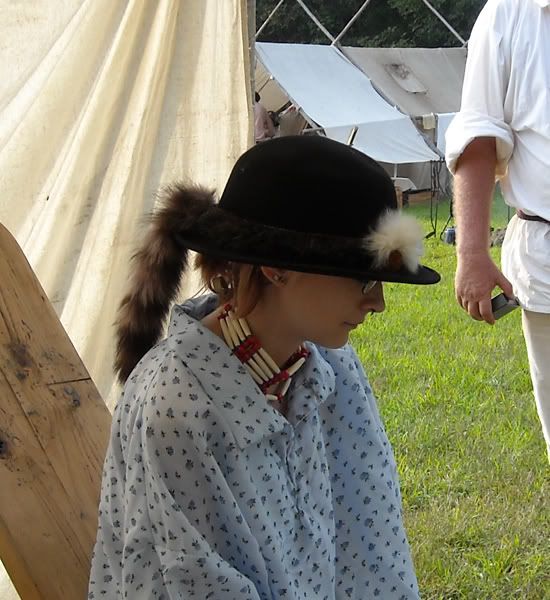 Tsu, using the blow tube to get the fire going while his dad Fred watches: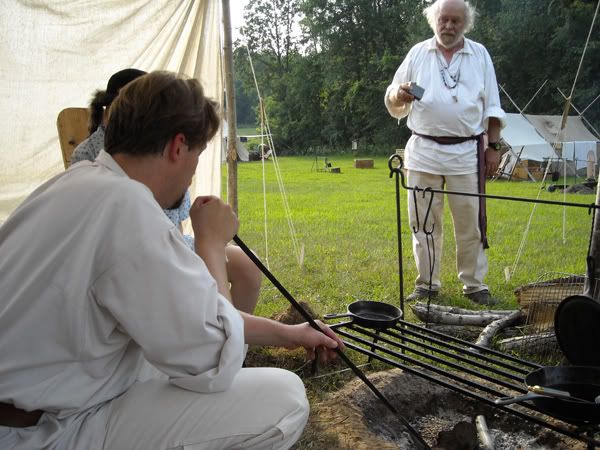 We set up in a totally different area from last year, more out in the open so I would get more traffic by my trade blanket.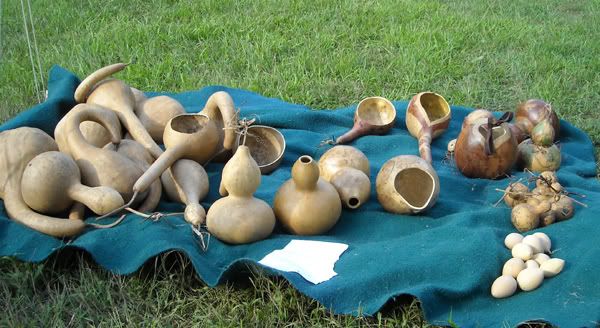 Some shots of the camp:


Our camp is the tent with the back facing the drive, with what looks like a white patch on the back (that is actually a little flap covering a hole to run a chimney out if we want a camp stove in there):

Tiff seemed to settle in pretty well. She opted for shorts the first day because... did I mention it was FREAKIN' HOT?
After i sold a few gourds (including one I wasn't sure anyone but me would like, that was bought by a member of our club, Trapper John, who is going to be teaching the trapping class we are going to take at the end of september) Tiff and I went shopping. The lady who sells clothes out there is so sweet! We picked out outfits from some she had made a whole ago, and she looked through the stack of stuff we selected and said we should pay her $30. When I added up everything she sold it to us at about half price! Tiff and i both got nice dressy outfits. I have NO pictures of myself from this weekend at all, but I do have some of Tiff in her dress:
and making a goofy face: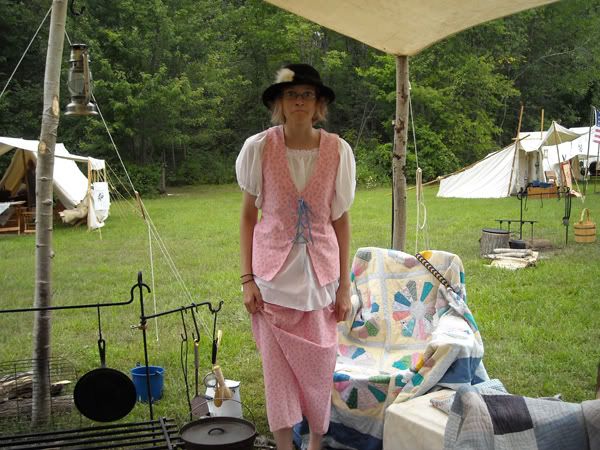 Since there were more people than room in the lodge Tiff and I borrowed my in-law's tent. We thought 1/4 mile away from the guys was a good distance to avoid having the snoring keep us awake (actually, that is where the modern area was, and... it was in the shade).
Oh, random... I bought a pair of wooden shoes:
So... there was a lady there weaving sashes. I expressed interest in the process so she not only explained it but actually showed me, on her "inkle loom", how to do the whole thing... then let me weave my own little sash!!
OH MY GOSH, I loved this. It was sooooo fun, and I just loved it! She said I should send her my email, and she would send me plans to have my own floor loom built. She also bought one of my gourds and I sold it to her for half price for teaching me about the weaving. She was a really neat lady. She also showed me how to make this twisted fringe:
check this out, isn't it cool?
While I was weaving the guys were shooting...
Tsu: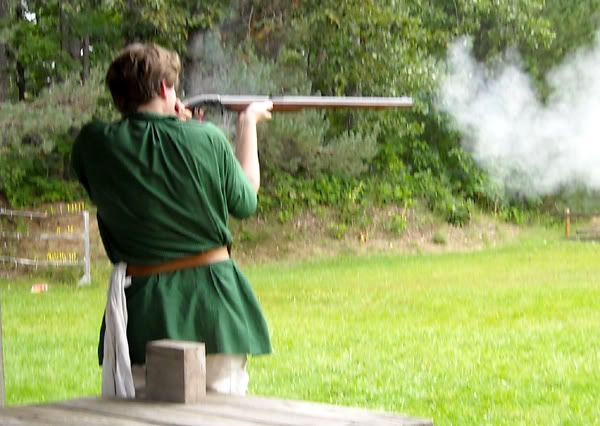 Fred (father in law):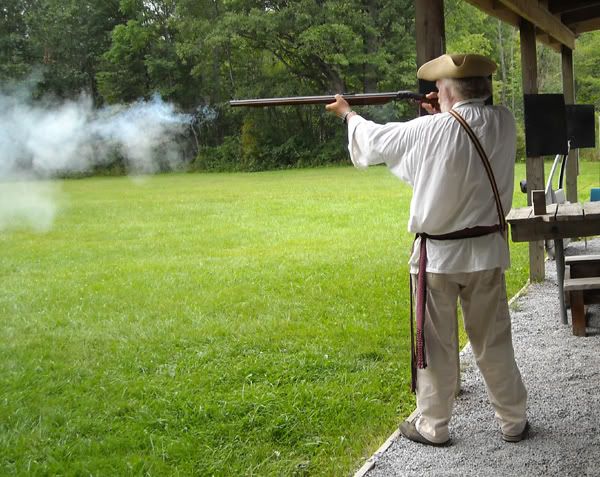 Troy (brother in law):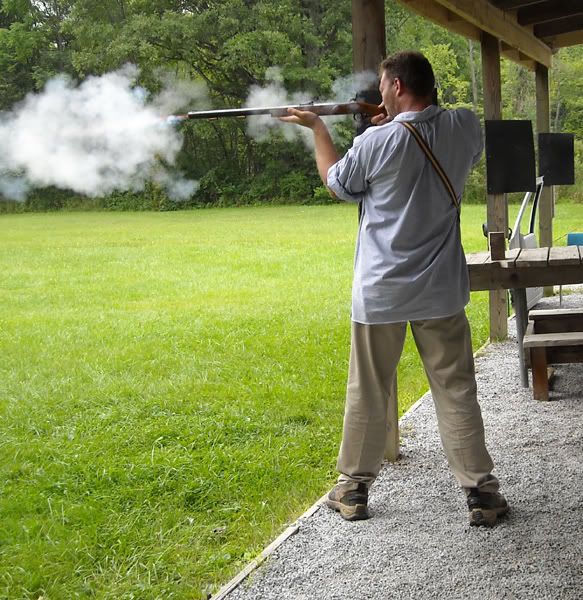 I got those pictures right quick before running back to talk to the lady about the loom and weaving.
It was fun and Tiff did great, but by this morning the heat was wearing us all down. Cooking over an open fire in this heat was a real trip. We also had our club meeting today, so my dad came out and we cooled off in the club house then as soon as the meeting was over we packed and headed home. I brought Tiff home, she hopped into the shower while i went to get the dogs from grandma's. I think they were glad to see me, lol. The guys finished up packing while I did that since my car was full and there was not that much I could do aside from the running to get the dogs (plus Tiff was worn out and i wanted to end the weekend on a good note for her). We still have to get the dog's crates from the in-law's house since we were out of room, and I have a HUGE stack of laundry to do.
So... i got a bunch of new clothes (Will get pictures to post later), wooden shoes, and may have developed a new addiction (weaving) and now... now I need some sleep.