This week I was going to start looking for a job, and instead I have spent days on the phone dealing with a completely unrelated and exasperating issue completely not of my doing. *le sigh* One of the towns fairly close to us has a "Michigan Works" office so I am going to make an appointment with them and see if I can get me a lil' job. My kid expenses are going up significantly as she enters the final three years of high school, and i want to buy a few horse things and I'd like to get our debt paid off faster than the 4 1/2 years we are scheduled on now. I might pay extra on the mortgage, i dunno. Plus I need the points for my social security. So we can retire to the mountains of tennessee and live off of our soc sec checks. lol.
Anyhoooo. I braided Brego's mane over. It's gradually been getting less and less tidy and part over here and part over there and part who knows where. So I braided it to one side after coating it with coconut oil. *grin* He is sooo not thrilled.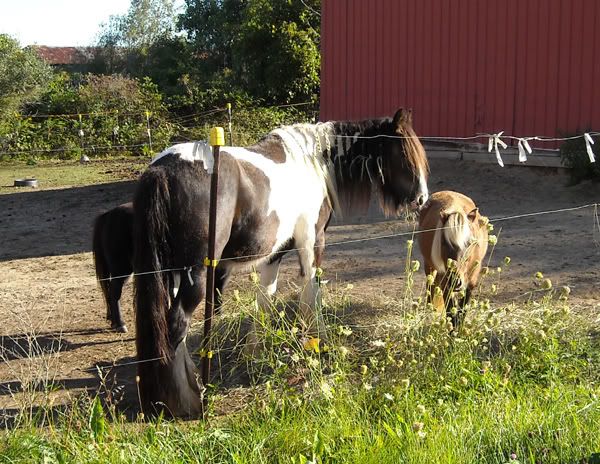 "Seriously? It has to stay this way for HOW long??"
GOURDS!!! Um, so far I have, out of about 40 plants (half hard shell gourds, half decorative small gourds) one single craftable sized gourd.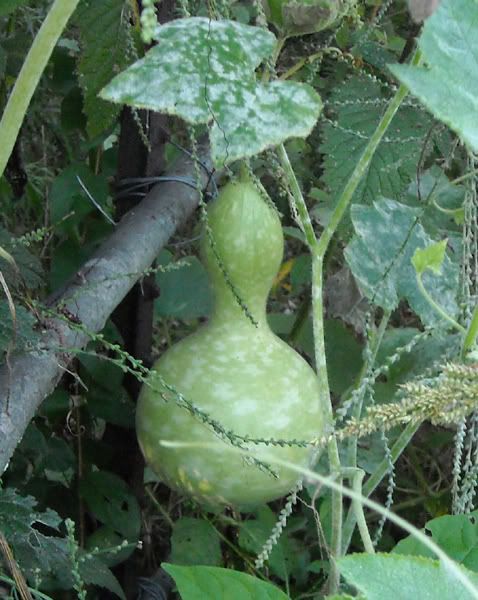 I have about 15 hard shells that are this size:
a few that are between (the largest of these is about 4 inches tall. it will make a cute snowman some day i guess):
and about 10 decorative gourds that are actually bigger than the hard shells. *sigh*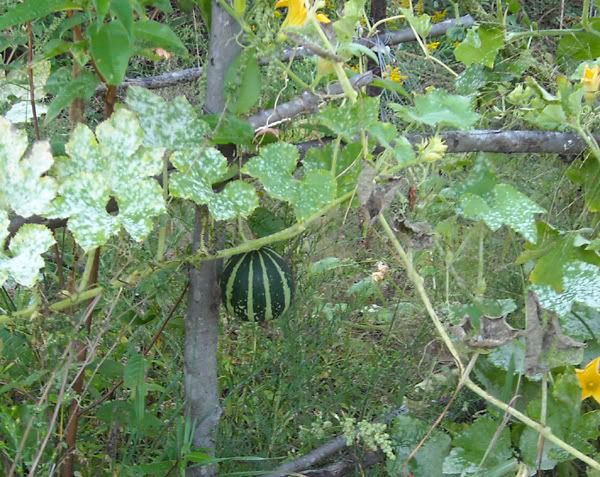 There is an itty bitty decorative gourd growing here, can you find it?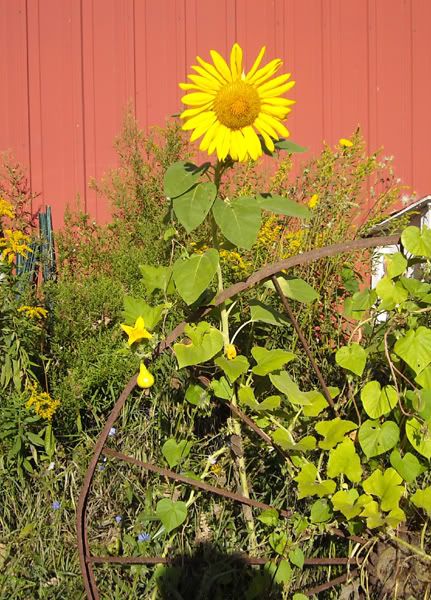 and now, here is our cat, Mouse, with her tongue sticking out:
And finally!!! Katherine, my hoof trimmer, is awesome. We chat like a couple of old hens when she comes to trim the horses, lol. I SO look forward to trim days, because I enjoy it when she comes by... Anyway, I mentioned a couple of trims ago that I needed a goat milking stand and she mentioned she thought her mom had one she might want to find a new home for. Jump forward a couple of trims and she brings the stand with her and sends me the news her mom wants the unreasonably high price of... hold on to your seat and get ready for it because this will BLOW YOU AWAY!!!! FIFTEEN DOLLARS!!! *falls over*
So, um, yeah. I almost feel guilty for only paying her $15 for it, I would have insisted she take more but I didnt have any more cash on me.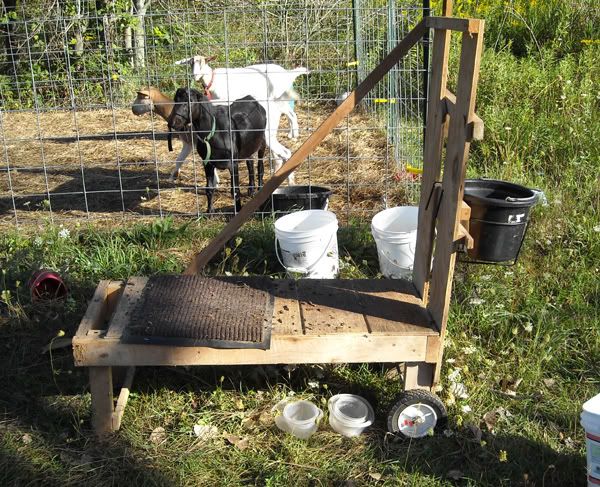 it has wheels on the front and is super easy to move around. the support on the side keeps goats from wriggling their way off the side, as well as adding stability. It's covered in hoof trimmings in this picture, lol.
The front has like a keyhole opening and then a bar that drops down to keep their head in the narrow place until you are ready to let them out. It also has a bucket holder that one of my protein buckets that was emptied out fits into perfectly!!!
Front of stand, open for putting the goat in:
Closed to keep the goat from pulling it's head out: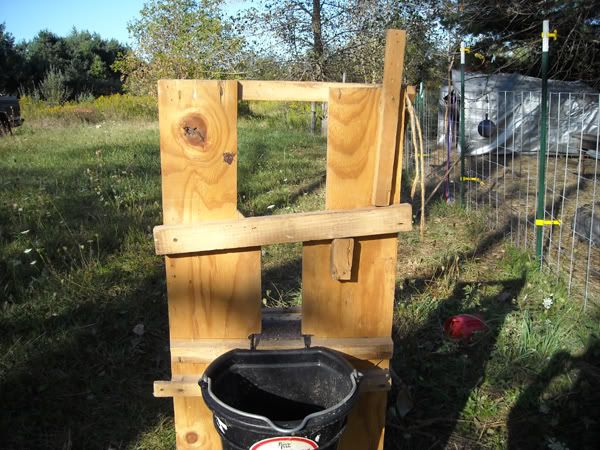 I gave the goats their dinner on it and was able to handle the ladies teats, even Rosemary and Thyme, while they ate. There were some small fireworks but once the twins realized they were stuck they just hunched their backs up and ate. I may actually be able to milk them someday afterall!! lol. Today I trimmed their feet while they had breakfast. How have I survived since March without one of these????