Horses keep warm in the winter from the heat generated by their digestion and by the insulation of their hair coat. It seems that the tiny horses have just as much hair as the big one only it is crammed onto their smaller bodies. Mine look like Tribbles most of the winter, hehe.
So when it is very windy and cold I try to feed them several small meals throughout the day. Yesterday we were going to be gone all day so instead I spread their food over many places so they would have to graze about to get it all. This took some planning because the wind was horrid and I had to find places to put it where it wouldn't blow away.
I decided to snap a picture of the ponies munching because Mary has such stubby legs and her standing in the snow had me cracking up: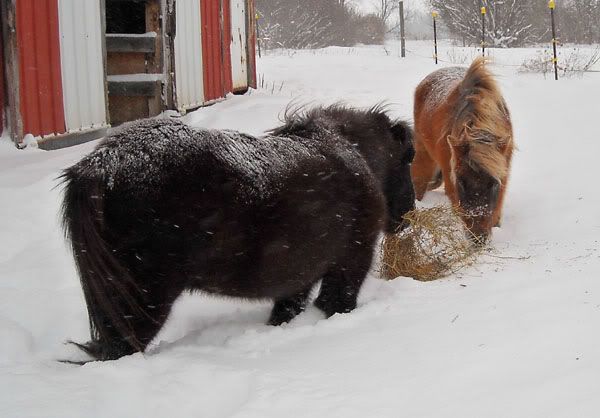 The heavy winds from yesterday have rearranged the snow into windswept low spots and twisting drifts. I did my morning chores early because the wind chill is -12f and I wanted all the critters to have something in their bellies to help keep them warm.
My new saddle is supposed to arrive today, and the roads are just awful. :-(
Tsu (my husband) plowed but the winds have drifted the drive over and our poor tractor is just over whelmed by this snow. It has turf tires on it and just can't get enough grip to move the snow well. We need chains for it.
Yesterday we were out in that awful weather. Tsu and his dad needed to go to see his uncle and they had to drive for hours round trip. Last time the had to go I went with them but this time I opted to hang out with my Mother In Law, Karen, instead. It's been a while since we had a chance to just hang out like that and we talked our throats raw, hehe.
I got a surprise gift of a .50 calibur muzzle loading rifle. I'm giddy with delight. Now I just have to learn how to load it and shoot it.
Happy holidays all! Once the holidays are over I will be filling everyone in on some of my plans for this blog, including give aways and contests, among other things!