Like most people who love horses I have a favorite colour of horse. I have a long list of colours I like, in order. And like most people who love horses I also have colours I don't much care for.
The good thing about my favorite colour is that it is easily one of the single most common colours for a horse ON THE PLANET. The bad thing is... I can't ever seem to GET ONE!!!! And what colour DO I get? One of my absolute least favorite colours.
Now don't get me wrong, I think "The Wrong Colour" is lovely. A lot of people like it, and I do think it is pretty. I just don't really find it appealing and I have had so many ponies in that colour that I am really really sick of it. Yes, it is flashy, eye catching... down right beautiful. But I am done with it!
You see, my favorite horse colour is bay. Plain old boring bay. With or without white (a bay and white paint is pure pure bliss) but even a solid bay makes my heart skip a beat. The deep (or bright, since it can come in any wide range of shades) red of the body, the midnight black of the points and mane and tail... It's just beautiful to me. I love it. Beyond love it.
So what colour do I end up with instead? SILVER bay! There are people out there who seek out silver bay, and can not believe I am so sick of it. You see, silver bay is common in mini horses and ponies. It is genetically bay with a silver modifier. Which means that every part of the horse that would have been black is diluted down to some lighter colour.
Here is an example of a silver bay, my late Shetland sweetheart, Jamie, mowing the dog run:
and here is a picture of him and his mother, Lilly: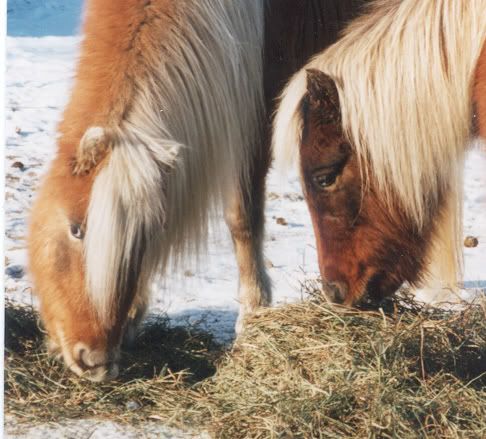 and HERE is a picture of Sparrow: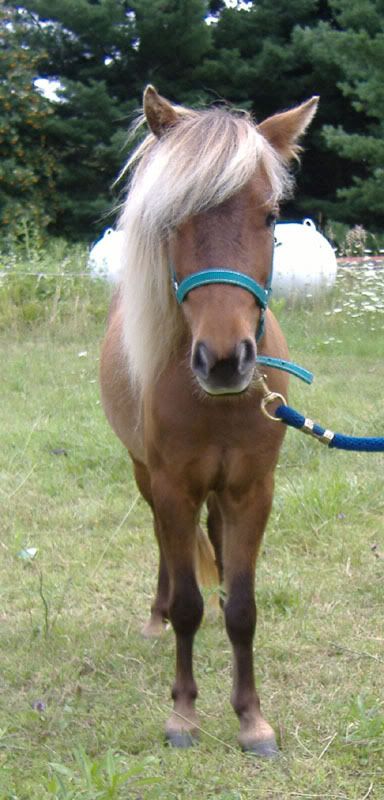 Are you seeing a theme here?
So.... you know I am working towards buying my dream horse. My dream horse is actually a black and white tobiano marked horse... but my back up plan if I absolutely can't get the money together to buy him is to find a Haflinger... and if that doesn't work out then to look into a grade draft type pony/small horse or a Standardbred. And guess what colour Haflingers are? Well genetically they are not silver bay, but they might as well be because visually they look just about the same.
To see what I mean check out this farm and their lovely Haflingers:
http://www.shadygrovehaflingers.com/
Maybe I should just invest in some hair dye, hehe.