Yes, I have still been knitting! And I learned some single crochet to finish a project! And I didn't end up with a hideous hand cramp because it it either!
I've done some wash rags and such, started some leg warmers that I may unravel and make into something else even though I have put like 15 hours into them I just don;t like how they are turning out. I bought a cheap 10 piece set of bamboo circulars and they are surprisingly nice quality for the money I spent. I mean, don't get me wrong, they are CHEAP and you can tell. The bamboo is soft and gets dented just from knitting with them unlike my good bamboo straight needles that are nice and hard. But for $25? Hey they are way better than I expected for that much money!
Anyway, I made a small throw rug with yarn an online friend gave me: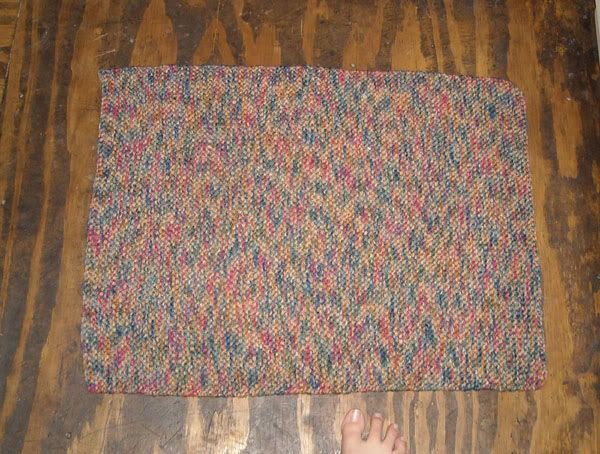 Then I decided to actually work from a pattern for a change, and I made myself a lucky hunting hat. lol. I unraveled the ends of the yarn on the braids after taking these pictures. It was quite hot when I took these, so I didn't keep the lucky hunting hat on for long, lol!! The camo yarn was in the stuff my friend sent me, the orange I had here. I learned how to do some crocheting to put the border on.
I'm working on a simple lightweight pull over out of some other yarn she gave me, no pattern just basically going to be a sack with arm and neck holes, lol.
Edit to add: I forgot to post a link to the pattern I used! So here it is:
Camo Earflap Hat!!!