Wrenched my right middle finger pretty good and bounced my noggin off the ground (thank goodness I wear a helmet and the ground is kinda soft). Both times it was purely my fault. He decided to try and trot today. It is cool, a bit breezy, and he was full of himself. My plan was when he tried going faster to just stick with him and let him go until he slowed down. What I did not count on is that he heads right towards a fence and turns at the last second. I over correct trying not to get flung off the outside and end up on my back on the inside of his spin. Twice. The second time I landed on the fence and blew a wire off (thankfully I didn't get zapped on top of it).
I'm fine, and oh so glad I have a short horse. LOL. He scared the crap out of himself both times. MAN, I wish I had a ROUND PEN! Or someone with more riding skill than I have to ride him through this.
Please excuse the tiny saddle. It fits him but not me, it was my daughter's when she was 7. I try to stay up off of it so it won't hurt his back.
Good start: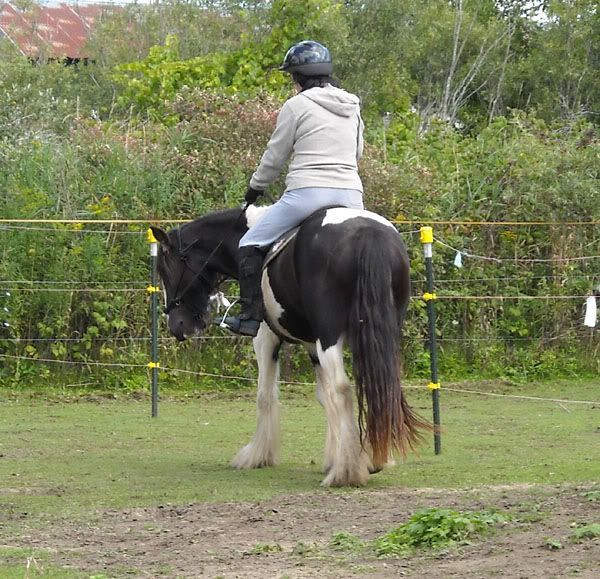 Nice walk, turning both ways:
Heading over to visit Tiff:
The exact moment when it started to go wrong (I am pleased to see I was actually doing everything I wanted to do here, up off the saddle, just enough contact with the rein to try and direct him where I wanted him to go without trying to make him stop, riding position still looks like a sack of potatoes on crack but what ya gonna do? lol.) :
After flopping off of him twice, getting back on to end on a good note but taking it slow since he was freaked out:
And getting cuddles from Tiff while he calmed down so he wouldn't end the day with a bad experience in his mind:
Note to self: When you come off a very green horse and you are in a pen where he can't get away, let go of the the dang reins, moron. That is the whole reason I wrenched my finger, i didn't let go when I came off.
The when I was fixing the broken fence wire I stuck my left hand smack dab into the middle of stinging nettle. lol. What a day.
Tiff said he never tried to buck or anything, just started to run then I flopped off when he turned. *rolls eyes*