It's been a bad week. I mean... a monumentally bad week. I won't go into details, since the issues are not mine, but that of some of my friends. But Tsu and I have been sucked into it kicking and screaming and it has me feeling gutted and heartbroken and otherwise miserable.
I don't usually talk about it when I am down. That is why so few people were aware of my issues with Seasonal Affective Disorder. But I thought it needed to be said to put the following into perspective.
I had two things happen today that lifted my spirits far out of proportion to what they should have.
The first is the goat pee referenced in the title. Parsley was not the least bit bucky when I got him. he showed no buck like behaviours at all. Since my goal this year was to breed him to my girls (even though he would give us very little in the way of meaty babies) this concerned me. A few months ago he started to act a little like he was interested in the girls, but not enough to put much effort in to romancing them. Today he gave a full fledged buck display with all the bells and whistles. If you don't know what that means... trust me, you probably don't want to. Suffice it to say he smells a little bit more like a billy goat, and the girls find him a bit more interesting than they used to... and that made me smile.
The weird looking bump under his jaw? He is growing a beard! I was a bit freaked out when I first noticed it thinking maybe it was an abcess... I went to palpate it and it is nothing but hair! lol.
The second was that decided to build a worm farm. Multi-purpose: indoor kitchen compost bin, fishing bait, salamander feed... I started with ripped up news paper on the bottom, some dried out but used rabbit bedding, and some dirt. I'd had a plastic container of worms for the salamanders in the fridge (I keep such gross stuff in there). I dug a little hole in the fresh dirt of the worm farm, dumped in my kitchen compost (coffee grounds and onion peels and bread crust) and dumped the plastic container full of chilled worms into the new worm farm. There were a lot more worms in there than I had thought. As they warmed up and wriggled their way into the soil i was overcome with delight. "I hope you guys enjoy your new worm habitat!!" yes, I said it out loud.
Look, happy worms in their new worm habitat!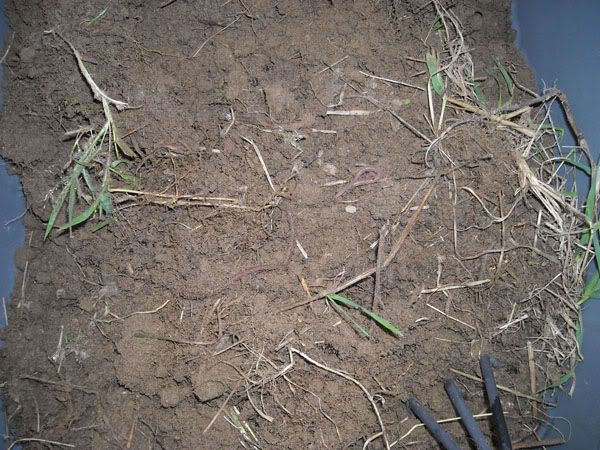 and just for good measure, more goats and a horse: