*copied and pasted from the
Harlequin Farms Gypsy Horse Forum
where I posted it this morning*
Wednesday: I had not fallen asleep until after 2am, so when my alarm clock went off at 4 my first reaction was to slap it into oblivion. But unlike most days my next reaction wasn't to roll over and go back to sleep, because today, finally, after all these years, was Brego day.
My random outbursts of squealing and jumping up and down had increased to the point where I was mostly just one constant outburst of delight. I'd pretty much packed everything I needed the night before, so all I REALLY needed to do was pack up the stuff I used in the morning and get everything loaded into the car. I did a quick check of the critters, reminded myself that if EMS had to come rescue my husband they wouldn't care about those dirty dishes, and off we went.
Tsu was pretty excited and we were both cutting up and joking around all the way down to Mary's. We got there a few minutes early and I did a lot of running and jumping and bouncing up and down and nervous fidgeting. We got everything loaded up and I gave Mary her thank you gift, a gourd bowl with a design made from a picture of Ace on the front:
She really seemed to like it which delighted me (not that it took much to delight me on that day!)
So we got everything ready to head out, Tsu helped get things hooked up, we said our goodbyes, pulled out of the driveway and we were on our way!!! Until we turned the corner out of the driveway and the power cables on the trailer stopped working and we had pull right back into the other entrance of the drive! Hehe! Well, Tsu was following us and he pulled in behind us and he and Mary fiddled with things and got those lights working again in no time and we were off, again!
Mary's daughter, Maddie, went with us. Now I am NOT much for spending time with kids so know that when i say this it is sincere... Maddie is a HOOT. She is an absolute delight and I wouldn't say it if I didn't mean it. She is a bright funny child with a quick wit and a great sense of humour who can talk your ear off as much as I can (and that is saying something) but she actually has something to say (I have "tweens" and teens in my family who can talk your ears off but when they are done you have no clue if they had a point or just like to hear themselves talk, which is fine because I think that is pretty normal for the age range, but Maddie is just interesting and fun to talk to and I am glad she went with us, even if she did eat ALL of the apples strudels, haha!). I really did enjoy having her along even if she did almost make me spew soda out my nose (or maybe BECAUSE of that!).
Well, the three of us chatted and had a grand old time until lunch time, lots of amusing stories were shared. When it came to be lunch time we found an exit that had a lot of signs for food places. We turned down a side street to go into a fast food place only to realize that they had signs up saying "No trucks" and had NO place for us to park or even to really pull around in the parking lot. So we turned around in a hotel parking lot and went off the other way in search of food. But there were no food places the other direction nor was there a place for us to turn around!
A few miles down the road off to the side we saw a large parking lot/driveway complex by a huge brick building that looked perfect. So we pulled around and got just far enough down the drive that we couldn't get turned around or backed out without going into the lot when we see a huge sign that says *something or other Islamic Center* and many MANY smaller signs saying things like "do not enter" "no trespassing" "This property monitored by security camera" and "Violators will be prosecuted".
Oh my!!! Well, we were too far in to get back out so we just hoped that if anyone saw us they would understand, and in we went... laughing about it the whole time. The drive ended up being a lot narrower and the corners a lot tighter than we had thought when looking at it from the road, but we got turned around and finally ended up back in the food area of the town and got our lunch... without attracting any angry Islamic believers. *blush*
So we were making better time than originally expected, made a few calls to check on Marsha and Val. On we drove and as we started to look for the exit to go to Val's house we noticed with a sinking feeling that the numbers were going down and we were already well below the 100's (her exit was 104). We were already 40 to 50 miles past her exit! Talk about embarrassed! We couldn't figure out how in the world we missed her exit! The next day we realized that her exit was actually immediately before where the road from MI joined the road by her, so we had not actually passed her exit. But I will get to that later.
Anyway, we finally get to the hotel, and get settled in. We noticed at the desk that they had a sign that said, "Pets welcome!" blah blah blah "$5 housekeeping fee". We start joking around that we should make sure our room is on the ground floor so we can bring Brego inside with us! The lady at the desk realized we were the ones with the big trailer and changed our room assignment so that we could see the trailers from our room window and so that we were closer to Marsha's room.
Maddie basically sets up camp in the swimming pool and I randomly bounce around at odd moments while we got the trailer set up for Brego. A few bent tools and some wood shavings later everything is ready and it is just down to waiting.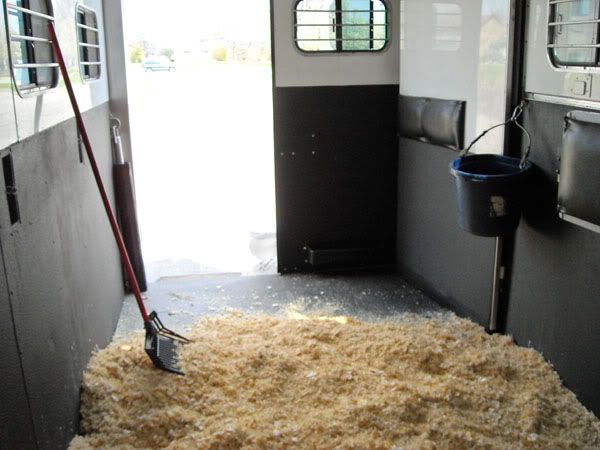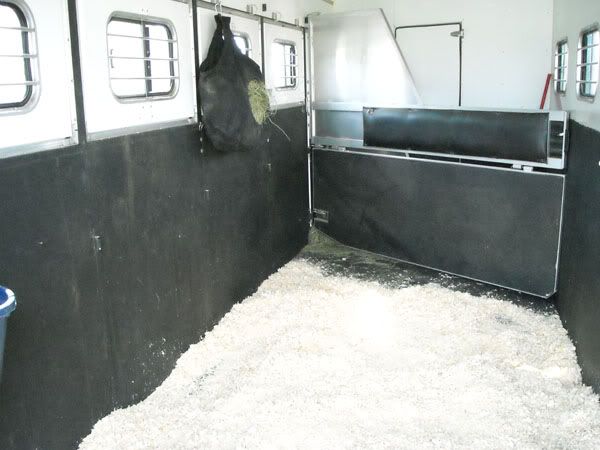 Finally Marsha called and said she was just 30 miles out. My heart rate doubled, maybe tripled, and I started standing by the hotel window bouncing up and down. Finally we went outside to wait and every truck and trailer that went by had us asking each other, "Does that look like her? Does it?" Then finally Mary said, "I THINK THAT IS HER! That looks like her truck!!!"
By now I was literally jumping up and down, haha! When Marsha pulled in I started jumping up and down waving to her and when she stopped I tackle hugged her the second she opened the door. After a few quick hugs and welcomes i dashed to the trailer and got to kiss my boy on the nose for the first time. We got him out of the trailer and he was soo tired. He'd already had a long day. He munched some grass for a bit then we settled him into the trailer which was opened up like a good sized box stall, and let him rest. Once he was tucked in I gave Marsha her gift and she gave Mary and I each a lovely pair of her earrings she makes. This is her gift, it has a design made from a picture of her stallion Leo:
Unfortunately after dinner we discovered the hot tub was out of service but Maddie and I went swimming and then I spent a good 20 minutes in the dry sauna. After a good swim and a sauna followed by sitting by the pool chatting with Marsha and Mary for a while and watching Maddie swim we decided it was time to hit the hay. It wasn't late for me, but it had been a LONG day for all of us.
I changed into my jammies and with a lot of chuckling and head shaking my companions watched me walk out to the trailer and bed down for the night. Now before you think I was sleeping on the floor in a pile of shavings, Mary and Maddie were nice enough to put together this bed for me in the goose neck area of the tack storage room: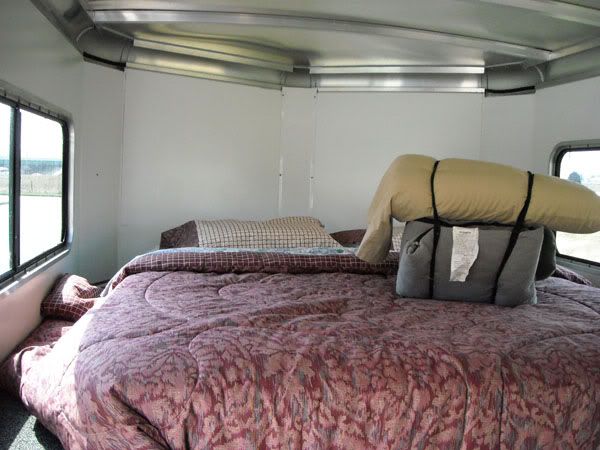 I stuck the sleeping bag and my good wool blanket under the comforter and i was toasty warm and comfy all night! Brego woke me up twice, once I think he had laid down and again when he stood back up. I checked on him when he got up and he seemed content and relaxed and a little sleepy. So I tossed him some hay and went back to bed.
I ended up getting the best nights sleep of any of us I think. Maddie had a tummy ache and Mary had to deal with the alarm clock in the room next to her starting to go off and continuing to go off until she called the front desk and asked them to take care of it!
I woke at dawn and went out to check on brego and he was just waking up:
I mucked out the trailer and topped off his hay and realized that he was finally mine, I'd just done my first morning chores for him! Writing out a check, signing paperwork... none of that REALLY made him mine... no, dragging my tired rump out of bed to pick up poop at the crack of dawn, THAT is when a horse becomes MINE, hehe.
I wasn't sure if anyone else was up so I grabbed my knitting and wandered in to the hotel to get coffee and muffins still in my jammies, hehe. Shortly after that everyone else joined me.
To be continued after I go spend a few giving the handsome lad his breakfast and some cuddles.