I am, I know it. I've been horribly remiss in my blogging lately.
I'll be honest, I'm a bit depressed...
... about cats.
We found homes for all of the kittens, had Schrody locked up safely yowling in our bathroom until she dried up her milk and got through being in heat so she could get fixed... and she dug her way out of the bathroom through the floor under the sink next to a water pipe.
*sigh*
My vet won't spay her if she has been bred so now I have to try and 1) catch her 2) find someone to spay her even though she has been bred 3) keep her confined until she recovers. Not to mention finding a way to pay for this.
Plus my cats are into the end of their spring shed (running several weeks behind this year) and are hacking up hairballs everywhere. EVERYWHERE.
The weather is gorgeous, the sun is shining, and from the other room I hear the sweet sweet melody of two cats going "URK URK URK URKA GURKA!!!! *splat*"
Yeah.
I'm starting to remember why I used to hate cats.
Then I see this and remember why i put up with their crap:
Because they put up with mine.
And as I type that I wish I had a a bean bag to toss at Irvine who is sucking his butt hole. If he could do it silently I wouldn't mind but instead I hear this loud *slurp slurp SLURP SLURP*
*head explodes*
I love my cats, even the idiot outside ones who I never wanted but who just showed up here, but seriously, I think i am done with cats. NO MORE!!!!!
OK, enough of that ranting and venting.
On to something brighter!
I put the horses out front where I want to put my round pen, the grass was a bit tall. ALL THREE horses are out there, and that picture is not deceptive, the grass is actually over my head in a few spots, lol: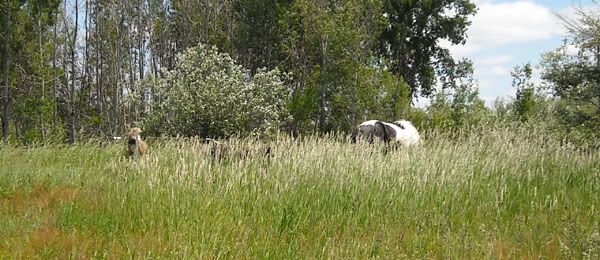 I took Nigel for a walk the other day, he spent the entire time claiming everything as his. I'll spare you the pictures of THAT. Here he is investigating the culvert under the drive:
Checking out Leo the Lop:
and being totally freaked out by the horses, who aren't terribly sure about him either: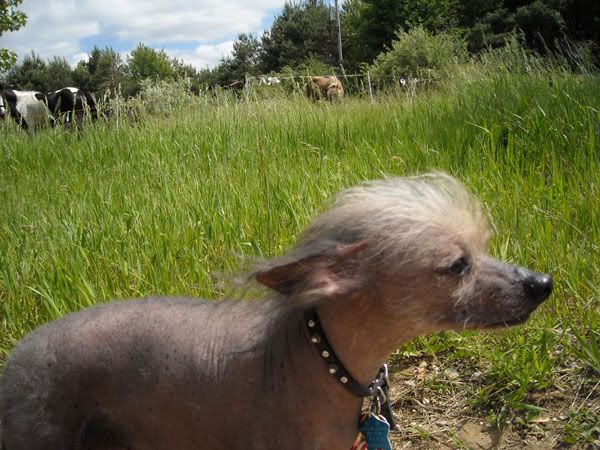 I promise to write more often now that I am snapping out of my funk. ;-)