It poured rain most of the day. But i still had to go medicate the ponies swollen gnat gnawed bits and pieces among other outside stuff. Poor Mary and Brego were still pretty much as bad, if not worse, as they had been the day before. Mary is looking better today but brego is still pretty swollen. All the scabs have come off and the Swat/bag balm/fly spray seems to be keeping the gnats away. At any rate, I got drenched.
Early afternoon we got a break in the weather so i took the goats out for some browsing in the back yard.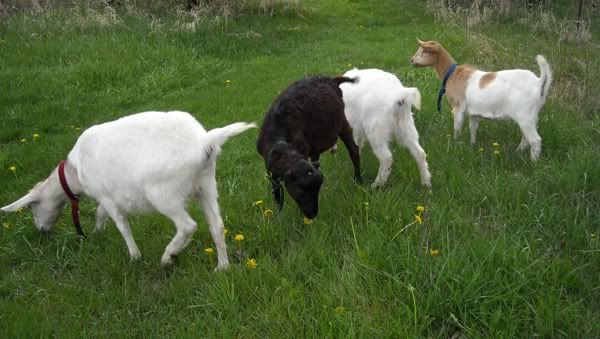 They found a tree, lol....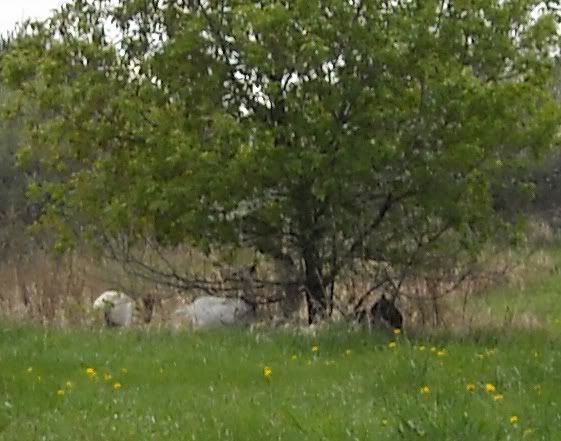 and another tree: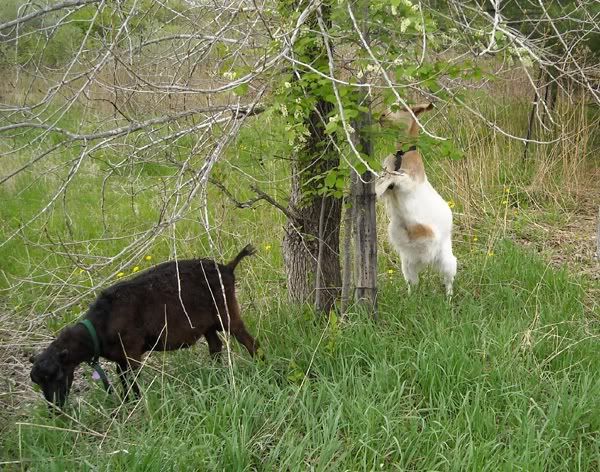 man, they crack me up:
It's supposed to be a little drier today so i have mowing to do and work in the big barn to make room for hay. Plus i think I need to make Mary and Brego do some running around to help drain the fluid out of their swollen areas. I may just "freeschool" them instead of ground drive them... two birds with one stone and all that. Not a lot of time today to deal with each on their own.
My helmet should be on the way soon, just waiting for it to ship then I can start back on riding again. I've been flopping across his back while he grazes and he is a lot less concerned at the thought of me being up there now. Unfortunately his arm pits are still raw from the gnats so no girth until that heals all the way up.
Today is Tiff's birthday. she is 15. She is going to her grandparent's after school for a small party, her dad is supposed to stop by. I sure hope their visit goes well. *sad sigh* We took her and her pet boy (lol), Jacob, out for dinner on saturday for her birthday. They are such funny kids.