So, the rooster hates us. He hates the cats, the ponies, the rabbit, the humans... he hates his house, he hates his cage, he hates when cars go by him in the driveway. He is like a handsome little bundle of poultry anger and disgust.
It really does make him quite charming. Dangerous maybe, but to me... absolutely charming.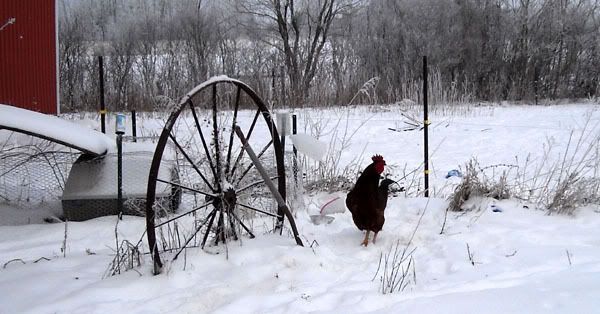 This was the unfortunate fellow who we called "Elizabeth" until he was about 6 months old and started to crow. That may or may not be why he is so full of anger and hatred towards us. Another part may be because for the next 6 to 12 months we kept him in his 2x12 cage. But as he got more angry and aggressive I just decided to let him out. he would either try to kill us and we would have to knock him out in self defense or he would lighten up a little and be happier.
Well, the good news is that he is MUCH happier. He still hates us. Yes he hates us with a passion you can see on his little chicken face (I know, you wouldn't think a chicken could express emotion on it's face and yet somehow he does it really effectively), but he has backed off on the whole "I'm going to kill you, and your children, and use your bodies as a food source until you are nothing but bones" attitude.
This makes me happy because I may be the only person alive who really REALLY likes him.
Unfortunately, today I had to do something grossly unpleasant to him for his own (and our) good that completely risked our current good relationship. I had to make him safer so that when he does try to kill people he is less capable of actually accomplishing that.He has been letting me catch him without trying to put my eyes out since the last cold spell when he refused to go in his house OR let me catch him. I was worried he would die of the cold but the snot was NOT letting me help him. As soon as the weather warmed up a little he was like, "Oh, ok, now that it doesn't MATTER any more you can catch me if you want."
So after feeding the ponies and watering the rabbit and rooster I came in the house and got the dog nail trimmers and an old ratty woven rug I used to use in my dog's cage as a blanket, doubled up on my layers for padding in case he fought back, and headed into battle.
He knew something was up. He wasn't terribly thrilled, and tried to run away. I simply followed him, slowly, until he stopped and looked confused and cocked an eye at me inquisitively as if to say, "What, exactly, do you think you are DOING?"
I grabbed him by the shoulders, lifted him quickly and tucked him under my arm, took him to where I had left the woven throw rug, crouched down and tossed the rug over his head. SUCCESS!
OK, small informational blurb about roosters. They have
"Spurs"
. They are more like, um, razor blades with which said rooster can disembowel you if he tries.
So... I did some research (on that page above and elsewhere)and decided to just snip the tips off to blunt them some. I did that (he didn't seem to notice even though he did bleed a little but not much) then noticed that his nails were wicked as well. OK, I know I am a freak about this but I can not stand long nails on an animal. EVERYTHING around here gets nail trims. Cats, dogs, rabbit and now.... rooster. OK, so nails and spurs are trimmed and I pull back the rug to see how angry his face looks and realize that he could still seriously put my eye out with that beak. NOOOO I'm not going to chop his whole beak off, but the top of his beak was growing down over the bottom and getting a hook on it. I was wondering why he seemed to have some difficulty eating some things, and that would be why. So OFF with the over growth of that too! He just stared at me, looking quite handsome with his now nicely matched and blunted beak.
I sat him down in the snow and tossed out the stale cereal I had brought out to reward him once the bad stuff was over and he looked up at me for a second, looked at the cereal, then ignored me and ate his treat.
When i went back out later to make sure he wasn't still bleeding from where I nicked the quick on his spur he chattered at me and walked up to me and sat down in the snow by my feet!!
Amazing. I treat him like a king, spoil him rotten, and he hates me. I wrap him in a rug and chop pieces off of him and suddenly he enjoys my company.
Stupid Chicken!!
But maybe now he doesn't want me to die after all.