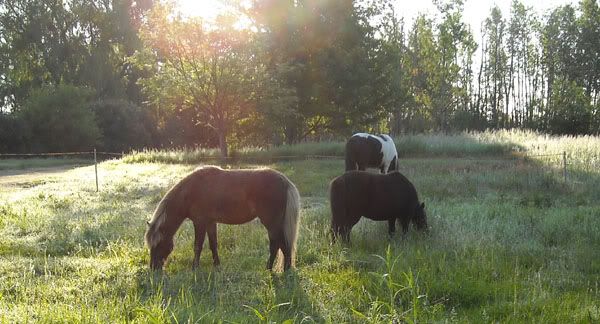 Tuesday was pedicure day for the ponies.
First, I love my trimmer. She is awesome. Reliable, communicative, and she likes my horses. Even the tiny ones. I bought one of the minis from her, actually, so she loves to come back and see her girl every other month.
This was her first time trimming Brego. He was a good boy. Aside from trying to kneel on her once and trying half heartedly to take his foot away when he got bored he was a real champ. She said she was impressed with how mellow he was and he is really pretty and she can totally see the charm of the Gypsies. Only problem is that he is just the right height to be too short for her to work standing and too tall for her to work kneeling like the minis. DOH. I told her I should get her a little bench to sit on half way between kneeling and standing height, lol.
She said his feet look good, one front has an uneven sole but she doesn't think it will take more than a trim or two for the shallow side to fill in. Nice thick hoof wall, said his frogs look excellent. It looks like he had a couple of old abscesses blow out on his hinds some time ago but they didn't look bad. All in all she said he has good solid feet. Yay! I LOVE his white feet. I have always loved white feet. I know this is going to sound stupid but they look like vanilla fudge to me. Or a good brick of hard white cheese. Yes, I love white horse feet because they remind me of food items.
Mary and Sparrow weren't so great with their trims. They behaved themselves fine, and shockingly, after watching Brego get trimmed Sparrow didn't freak out over the farriers tool carrier like he always does! I guess he figured it Brego wasn't concerned he wouldn't be either. Stupid pony. However, both of them have something funky going on in their white line. Nothing severe, but it does need some treatment. So I'm cleaning and packing them every couple of days. We think it is from when they were quarantined in the back lot and it was disgustingly muddy for like 2 weeks. I treated them for thrush even though they showed no signs of it just because that muck concerned me. But it looks like some fungus or something got into the white line. Mary should have hers grown out enough at next trim to be back to normal, Sparrow will have one spot that may take a few trims.