Friday is the last day and Tiff couldn't be happier. I talked to her dad last night and she will be spending the first week of summer vacation with me. I told him my brother Jonathan is getting married July 4th and he about passed out. I told him, "Would you like a moment of silence while you have one of those crazy "I feel old" moments?" Told him wife to be is a Marine. Then mentioned that my other brother has been married over two years to a school teacher in Florida and I thought he was going to pass out for real. I thought it was funny. Middle brother is 32 or so, youngest brother is like mid-20's. I guess he still just remembers them as little kids. At any rate, it was funny.
Tiffany had a drawing in an art exhibit but we didn't know until after it was over. *roll eyes* Well today they will be exhibiting them at the school. So I'll try and get some pictures.
The ponies just finished grazing down the back yard. Time to move the fence again. I am going to be putting a round pen out front over the next week or two, using the logs my dad gave me as fence posts. I need to strip the bark off of them first though. Then I can get serious about working Brego because I won't have to worry about him smashing me on a tree if he gets a wild hair.
Another attempt at a picture of Sparrow, lol:
He was itching himself and I thought it was cute:
NOMNOMNOM: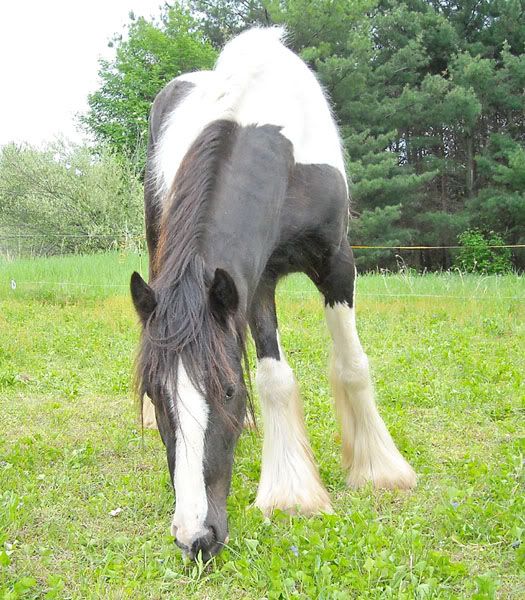 Synchronized rolling! (I do not turn out in halters, but when I move them to their temporary lots in the yard I leave their halters on until I groom each one, and remove the halter when I am done hoof picking and mane and tail brushing. I'd run in to go pee right quick after letting them loose and saw this scene out the window and had to grab the pictures, hehe)
These rolling pictures crack me up: