As promised... something less dismal than drama.
My MIL has a friend, Nancy, who used to have goats. When I started to seriously think about getting myself a few I thought of her and wondered if she still had them. Now I have been catching some flak from friends and family about the whole goat thing... Not from Tsu, he was the one that made a comment about changing his mind and wanting goats instead of a donkey. But from other folks who don't quite get the concept of "small farm". You know, the type of place where you kind of grow your own food stuffs and such, and not just a place with a large yard and maybe a horse and some barn cats.
So my plan is that if we get enough this year from tax refund and bonus I am going to buy a 10 x 14 shed, and divide it into two sections, and put about 10 chickens in one side and about 3 goats in the other (and a buck who will have his own pen farther away from the house and away from my does, the smelly bugger). The chickens will get a chicken wire fenced yard and get to free range once they are older and settled in, and the goats will get a pen made out of 16 foot long cattle panels and I will get some extras panels for a mobile goat pen so they can browse down several areas that have become over run with brush Not sure if they will be the panels with smaller holes at the bottom and bigger at the top, or horse panels with 2x4 mesh all over.
Anyway, every time I start to work on making my farm a FARM i catch some attitude from someone, or several someones. So, I am a big believer in signs. not in a spiritual sense so much, just as in, "If something is the right thing to do, it will all fall into place."
So... guess who, after several years, we run in to at WalMart this weekend? Nancy who had goats. Imagine that. she said she hasn't had goats in about 3 years, but her front paddock is growing over with brush so she was thinking if getting some more. she asked what kind I wanted and we discussed breeds and she said she would get my number from my MIL so we could chat about it later and I gave her one of my business cards. She was VERY encouraging.
I walked away from our conversation wanting to find my goats RIGHT NOW! lol. I mean, I have a fully enclosed stall in the barn I could keep them in until I get their pen built, right?
My car is almost done. We can go get it tomorrow. Then I can try getting in touch with that lady close by me with dairy goats.
I'm so silly.
I also started looking for gourd seeds and planning my garden. Two places I used to buy gourd seeds stopped selling them. *cry* so I have to try a new place this time.
I seriously need canning jars, so I can try canning stuff out of my garden. I've never done that before so I may need advice, hehe. I have a big book about preserving foods by canning, dehydrating and freezing. I have this crazy goal to someday be able to provide enough of my own food that if needed we could get by without going to the grocery store. You know, in case we ever get snowed in for a month, lol.
To end this... I've narrowed my goat breed choices down to the following breeds, in this order:
pygmy: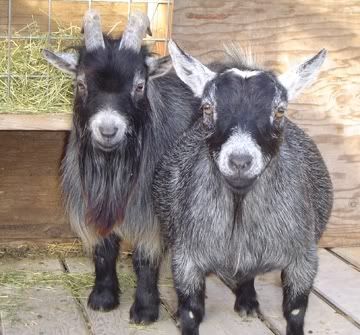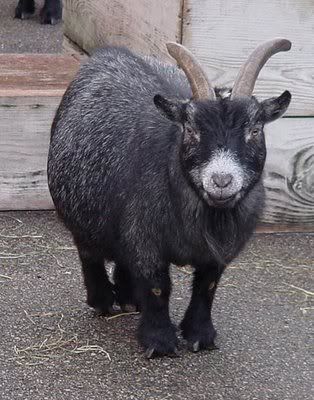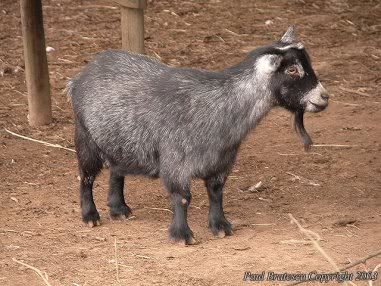 Kinder (Pygmy/Nubian cross):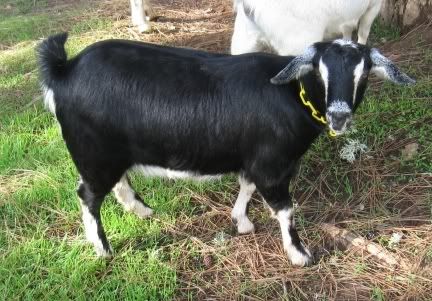 and Nigerian Dwarf (they can have blue eyes...):