Two of my three ponies approve of my activity yesterday. The other one is PISSSSSED at me!!
So I got about 30 temporary step in posts and made a much larger pasture out front. I had about a 50 x 50 foot that I moved around a LOT last year and it was a pain. So I enlarged it and I shouldn't have to move it much, then later when I get a path cleared around the edges i can put in more solid fence and just leave it up out there.
The thing is... Mary is grossly obese. So... the horses get a flake of hay in the morning to share, and another in the evening. Then the boys get to spend a few hours on grass (they have to slowly get used to the grass so they don't get a tummy ache) while Mary gets to... well... stay in the "diet" lot.
She is NOT happy.
"Hey, you JERK! Why can't I go out on the grass????"
The boys don't even have the decency to care: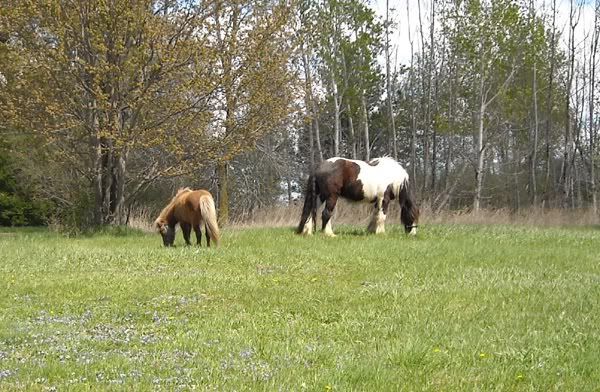 Poor Mary over there starving to death and they are just happily stuffing their faces:
Sparrow doesn't seem to care at all:
Well, if you run around screaming long enough you WILL get someone's attention, but he isn't going to come help you: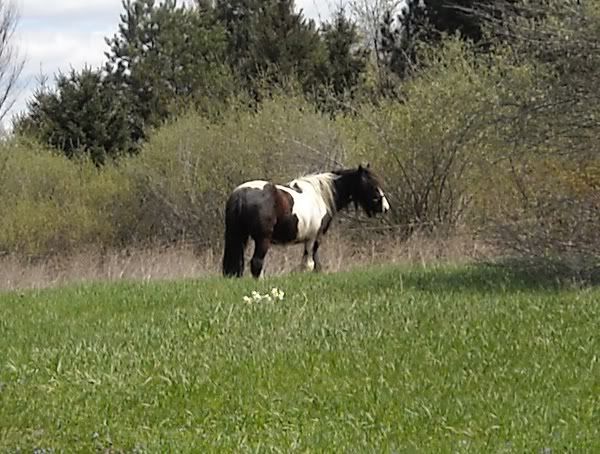 he is just going to look at you like you lost your mind then go back to eating:
Oh, stop looking so pitiful, when you lose some weight you can go back out with them... sometimes...
Until then... here is a handful of grass...
"Seriously? THIS is what I get?"