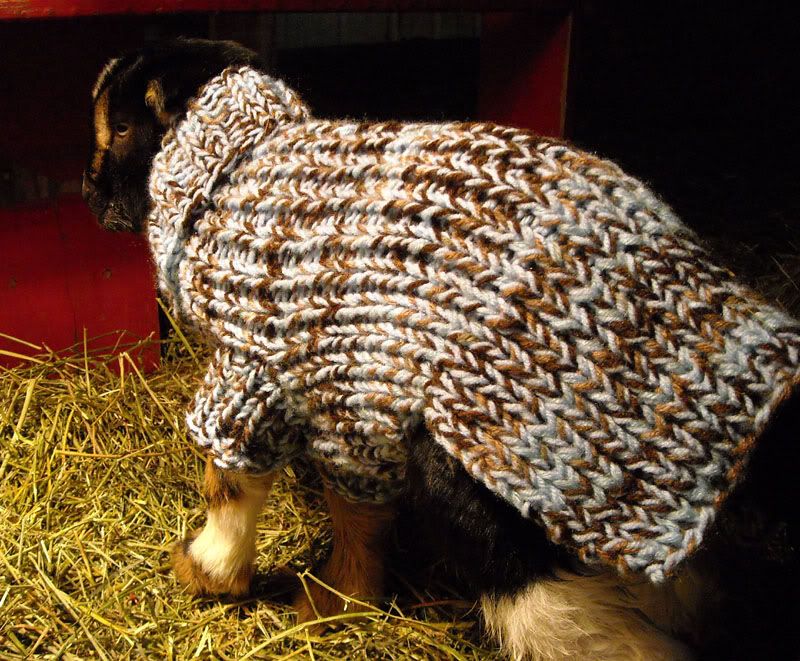 Baby goat sweater knit flat
Size 8 needles, straight and DP or circular (for legs)
Bulky yarn or 2 strands worsted held together (I like to use two strands worsted and work through my stash of scraps since no one really cares what colour baby goat sweaters are as long as they work)
This pattern has two choices for the back end, chose one:
1.Tapered back end:
CO 36
K1, P1 rib 1 ½ inches
*K1fb, work in pattern to last stitch, k1fb
Work in pattern 1 row* repeat until 46 stitches
Go to +++ and proceed
2. Straight back end (pictured):
Cast on 46 stitches
Work in k1,p1 rib
Go to +++ and proceed
+++
Work in pattern until 6 (or 8) inches long
Inc 1 at each end of every row until 58 stitches
Knit until 10 (or 12) inches long
Work across 6 stitches, bind off 4, work until last 10, bind off 4 then knit last 6
Work back and forth on the 6 stitches before the bound off 4 until section is 3 inches long. Place stitches on holder or scrap yarn, cut or break yarn and move onto center section of 38 stitches. Work until 2 ½ inches. Work last 6 same as first.
Work next row in pattern, after first 6 stitches cast on 4 then pick up center section, cast on 4 and pick up last 6.
Work 2 rows in pattern, then decrease at both ends of every 3rd row until 48 stitches.
Knit next row*.
k2,p2 rib for 2 inches, bind off.
Pick up even number of stitches around leg holes (I picked up 22, legs are optional) and knit in k1,p1 rib to desired length, bind off.
Stitch center front from last increase to end of collar. Weave in ends.
*this is a turning row, up until this point your sweater doesn't really have to have an inside or outside but once you put in the turning row it makes the collar fold one direction. If you put legs on make sure check the fold of the collar before picking up stitches. Don't be like me and just put the legs on the inside of your sweater the first time you try to make the pattern, lol.
If you have any questions at all just ask and I will try to answer in the comments. If you have any suggestions or improvements in how this pattern is written please let me know!