Summer goose: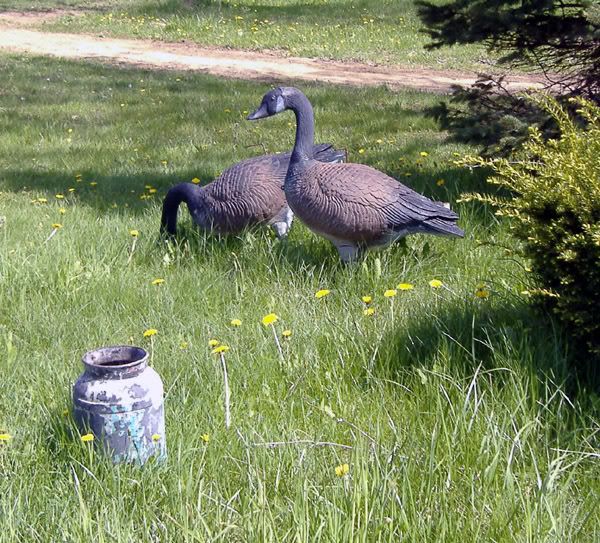 Winter goose: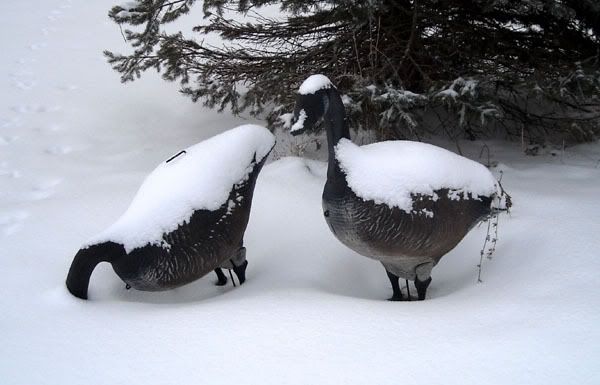 Yes, they are plastic. My ex mother in law gave them to me a few years ago when they moved.
Summer rooster:
Winter rooster: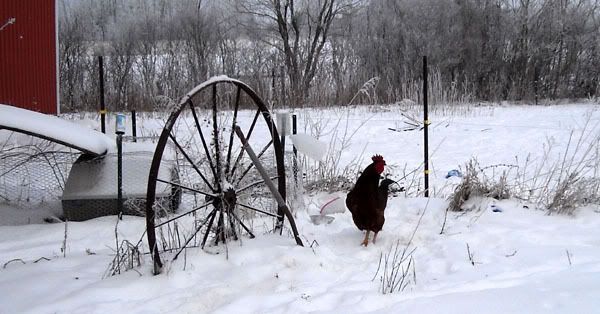 NOT plastic. He is now officially "free range" which means he can act on his desire to kill us at any time he chooses. Honestly I swear! He has been plotting to kill us since he first figured out he could crow. I think it is because we called him "Elizabeth" for the first 6 months of his life.
And CAT! This is Socks, the road kill kitty, one of our barn cats:
Stalking me.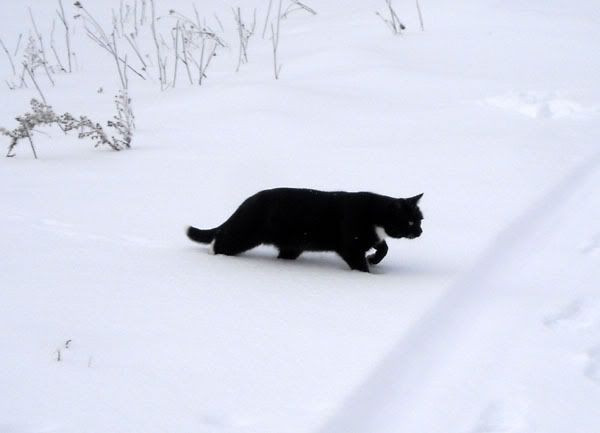 Distracted by the ponies. I assured him that though they may be small they are still too big for him to eat.
So, today it was a balmy 18F outside. The world was wrapped in fog when I woke, but by chore time the fog had lifted and left behind a thick fluffy coating of frost on everything.
Even the ends of the ponies hair had a clinging layer of frost.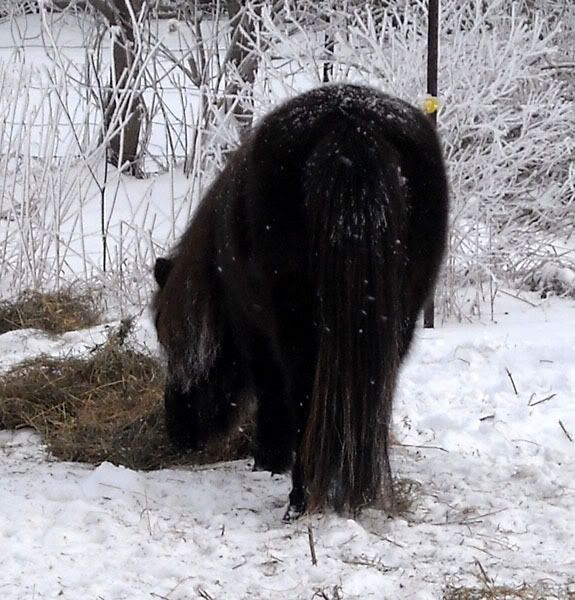 The nice thing about the ponies is that they are very considerate. Thoughtful. Helpful even. Instead of just going doody where ever they happen to be when they get the urge they almost always make the effort to go in to the run in area in the barn to go in what I fondly call "Poo Corner". Now this would be great if they did this and I could just clean up the droppings from the pile but they also insist on urinating ON the manure. So by the time I get out there in the morning the bottom layer is frozen to roughly the consistency of hardened steel. Something about the mix of tiny turds and urine produces the hardest substance known to mankind: the miniature equine poopcicle.
Well, for the last few weeks I have been struggling to drag my wheelbarrow out to the pile to dump what few road apples I could claw up with my Miracle Fork. Today I decided the effort wasn't worth it, so I opted to use the Big Blue Sled I found out in the barn when we moved back here. I have a section of pasture I will be reseeding in the spring. The soil is pretty sandy and blah there so I have been trying to spread any manure out there to mix in to the soil before I reseed. I managed to get some out there, and was spreading it just the other side of the fence from the rooster.
He eyed me with a haughty disdain mixed with hatred and homicidal desire, but stayed on the other side of the fence until I went back to the barn. As I walked away he chattered at me angrily then ducked under the fence to pick through the droppings for treats. After seeing the things that bird eats I am not sure I ever want to eat chicken again. He is like a garbage disposal with a razor sharp beak and spurs that would make a cowboy envious.
At any rate, my Miracle Fork is just not up to the challenge of prying those poopcicles off of the dirt floor in the barn and it is making me insane. I can not STAND turds in my barn!!!!! The farrier is coming out Tuesday and there is a frozen pile of poo in my run in! Dear heavens! People can see my house with it's couch covered in cat hair and piles of books next to the couch but a POOP in my BARN! PERISH THE THOUGHT!!!!
I can't wait until spring. I never thought there would be a time in my life when the thought of thawing feces would make me feel warm and fuzzy inside. Sometimes... sometimes I worry about myself.
:-D