Tsu got himself a new ride. He is LOVING it! The whole thing started when our buddies Jer and Tory got the bright idea to get dirtbikes or ATVs. Something fun for everyone to do that didn;t involve logging on, killing virtual monsters, or breaking the law. *grin*
At any rate it was looking like Tsu was going to be the last of the three to be able to get a ride and considering how crappy he has been feeling lately this was quite a depressing prospect. But we were able to figure out a way to make it happen. Unfortunately our buddies got totally screwed and it may be spring before they can get their rides. Until then Tsu is very nicely sharing his and just about everyone is taking a turn... except me. Yet.
It is a 2008 (but still brand new fresh out of the crate) Suzuki Ozark. It's a "sport utility" model which means we can haul stuff with it, on it, etc or use it for trail riding and that sort of stuff. Honestly, it has to earn it;s keep a bit and be multi use because we could not justify spending the money on something that was just a toy and not also a tool. This puppy will be hauling my hay from the big barn to the barn lot this winter most likely, among other things.
Anyway, we made sure Tsu got a helmet too:
Jer borrowed Tsu's Jayne Cobb knit hat. See how Tsu's hand is bluring in this picture?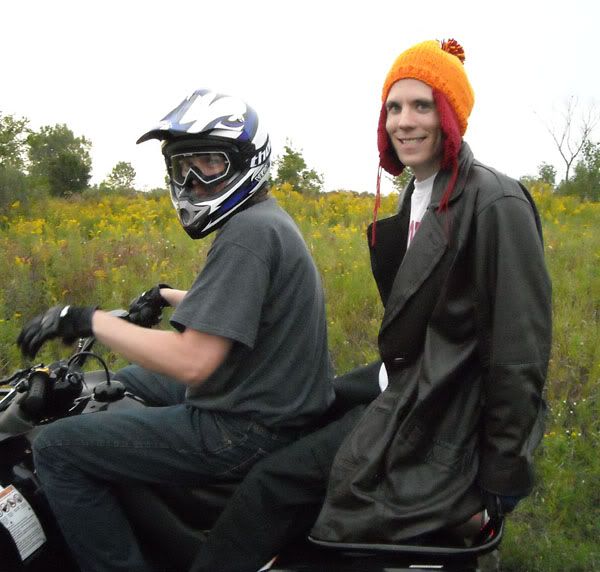 That is because he has a hard time getting his picture taken without doing this:
Tsu had ZERO experience with ATVs, so Jer hopped on back to give him some coaching. We dug some smelly rodent urine covered pillows out of the barn, covered them in a trash bag and bungee corded them down to make a passenger seat. pretend there isn't a sticker on the thing saying to never carry passenger. *doh*
After they got back Tsu reclaimed his Jayne hat. Pretty cunning hat, eh?
So then Tory took a ride on it, and after almost missing a corner and going into the weeds off track Jer decided to give him some coaching as well... but first he had to feel up his boobs a little. Looks like they might both be enjoying it:
Little bit of male bonding on the "back 40".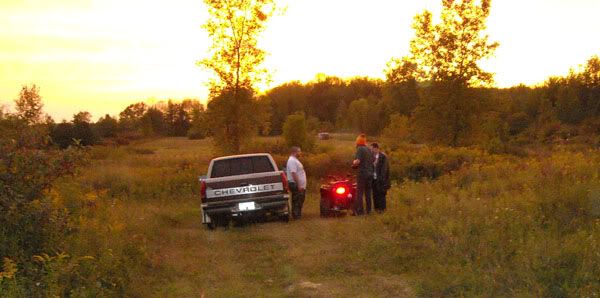 Tory, driving our truck back up to the house, he stopped to rip on me about something. hehe.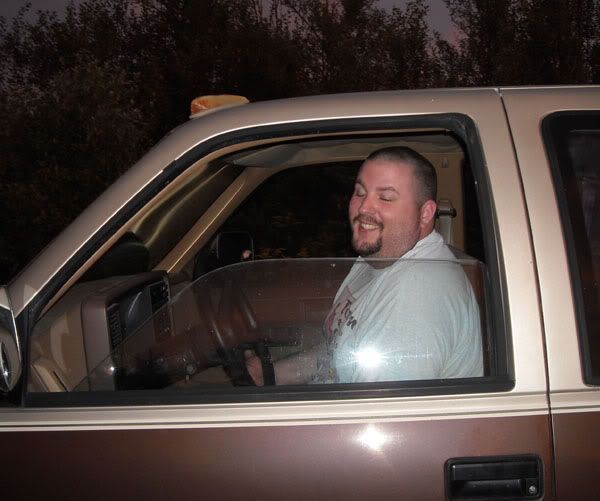 Brego was just glad they didn't all want to ride him (he was delightfully unconcerned about the whole thing going on outside his paddock)...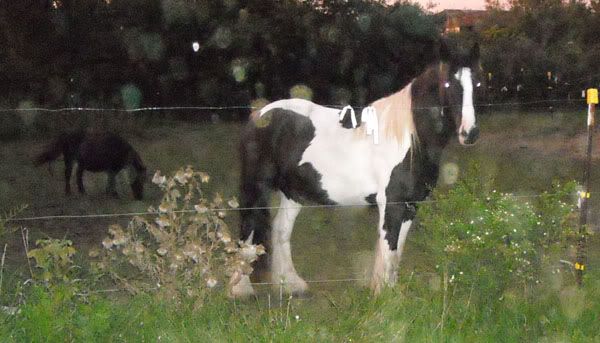 While they were doing their manly man stuff I was making some knit wrist warmers. I totally underestimated how ruffly the yarn overs and new cast off technique I tried would make them. I was making them as a gift but they are just toooo ruffly, IMO, so I am going to list them on Etsy later on.
with the blue velvet jacket it looks a little Austin-Power-ish, lol (EWW my nails look filthy in that picture. Gross. They weren't dirty but they sure look it. Yuck).
I made a ruffly but not THIS ruffly pair the next day to give as the gift.