You know, I tend to be a little bitter and resentful of mankind in general. Having done animal rescue has brought me into contact with the dregs of humanity. And the rescuers I worked with or commiserated with had as well, and hearing THEIR horror stories combined with mine has given me a general disgust for a huge percentage of the human race. a number of relationships throughout my life with people who were selfish and self centered and controlling and manipulative have left me without a lot of trust of faith in humanity.
So the last few weeks have really been amazing for me, and a delight, to see the kindness and generosity of people in both good times and in bad.
First, the amount of emotional and informational help I have received this week through "Kitten Crisis '09!" *dramatic ominous music and flashy news style graphic* has been astounding. I've also had an offer to help cover the vet bills. How amazing is that?
I don't want to downplay the amazing response to my kitten issue, but I have seen people pull together to do amazing things in times of crisis large and small.So I am touched, amazed, impressed and humbled. But these people have always been there for me when things like this go on. What has amazed me just as much and given me a little more hope for mankind is the amount of support I have received for a GOOD thing... getting my horse.
Getting a new horse isn't a crisis. It isn't a dramatic event (unless it is a rescue, which this is absolutely NOT!!!) it is a happy decision you make. It's normal for folks to go, "Oh yay, good for you." What is not common is for people to respond with as much delight and joy as if they were getting the horse themselves. What is also not as common is for someone you have only met a few times and mostly have known online to, out of the goodness of her heart, offer to load you into her truck and head half way across the country with her horse trailer to meet the person you are buying the horse from half way free of charge.
Yes, folks, thanks to Mary of
Mount Christie Gypsy Horses
I am going on a road trip!! We will probably be leaving next tuesday afternoon to meet Marsha of
Chinkapin Ranch
somewhere half way between Michigan and Oklahoma. Now I have met Mary a couple of times before. A few years ago she was kind enough to invite my family and myself out to meet her horses since I'd never actually met a Gypsy Horse in the flesh before that.
It was this visit that really made me 100% sure these were the horses I'd been looking for.
This is me (pre weight loss) with Mary's good mare Cokie and her filly Capri, the first time I ever got my hands on a real live Gypsy Horse.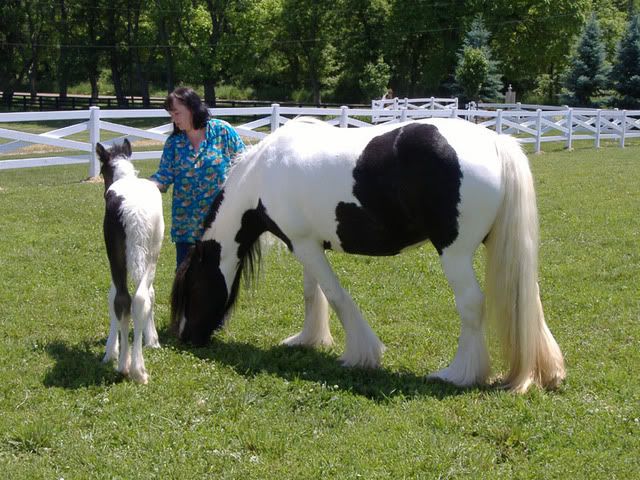 My husband and myself and his parents spent a couple of hours talking to Mary, and playing with the horses. My father in law was a hit with the horses, he must smell like carrots.
I am astounded, touched and humbled by these two ladies and by all of my friends at
Harlequin Farms Gypsy Horses Forum
. I've been hanging out with them for years now and their joy for my finally getting my horse has just been so touching to me. But more than that, their willingness for all these years to love and support and share their horses with me has been monumental. I've lived vicariously through their joys and sorrows and adventures and now I can see them taking joy in my finally getting my own. I just can't say enough about how wonderful and amazing this adventure, and the people I have met along the way, has turned out to be.
I'm tempted to make a list of all the folks who have helped and supported me both through getting my horse and through helping this cat and her kittens, but I am sure I would miss someone so I will just say... you know who you are, and I thank you.
And as a gesture of thanks I will share with you all... A KITTEN PICTURE!!!!